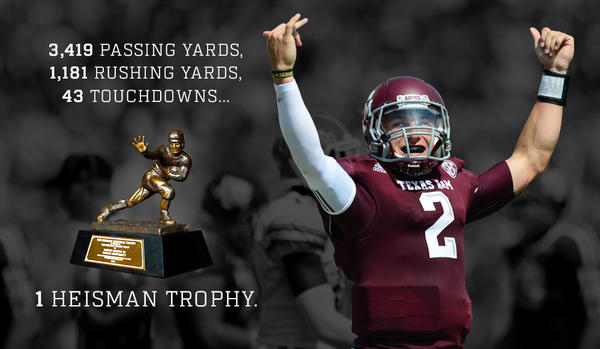 Tonight, the 2012 Heisman Trophy was awarded to Texas A&M quarterback Johnny Manziel.  As Texas A&M's second player to win the prestigious honor and the first freshman to ever win the award, "Johnny Football" electrified the nation with statistics better than Cam Newton's award-winning season.  
The following are his leadership quotes as well as from others in tonight's telecast of the awards ceremony:
Prior To The Announcement
"I want to leave it all on the field and wear my heart on my sleeve." – Manziel
"I want to honor the Lord with what He had given me." – Collin Klein
"You got to take everything in stride." – Klein on not kissing his wife until their wedding day.
"Football provides me a platform to be an example to people." – Manti Te'o
"People are going to have more tackles than me, more interceptions than, but I want my teammates to remember how I made them feel." – Te'o
"College football is pure." – Te'o
Acceptance Speech
"You taught us about passion and about heart." – Manziel to his high school coaches.
"Most of all I want to thank God for allowing me to be here."
"Leadership, respect, and putting others first is what the 12th man is all about."
"After the game you have 24 hours to celebrate it and then you move on."
Subscribe here so future posts can be sent directly to your Inbox. As a gift for doing so, I will also send you a FREE copy of my brand new eBook 455 Leadership Quotes: Lessons From 2012′s Top Christian Conference Speakers.